Cheesy farming venture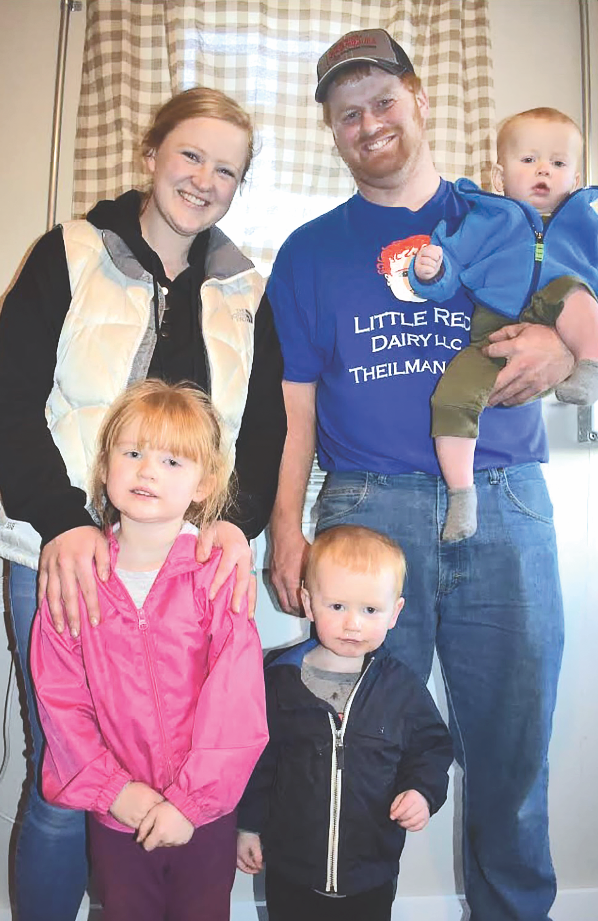 Millers mix cows with curd making
By Grace Jeurissen
STAFF WRITER

THEILMAN – The Miller family wheeled an ongoing adventure onto their property in 2018. A semi-trailer stands monumental as their on-farm creamery where they specialize in making cheese curds for local establishments and customers.

The semi-trailer is armed with anything a person would need to make cheese. Alan Miller said it is called "cheese on wheels" by a company in Wisconsin.

"It's probably one of the most unique things about our farm," Miller said. "It was a more affordable way for us to start making cheese on our farm."

Miller milks 250 cows and farms 500 acres of cropland with his father, Bill Miller. Alan and his wife, Emily, run Little Red Dairy, an on-farm cheese business, while raising their four children – Eva, Karl, Cade and Rhett. Eva's silhouette serves as the logo for the business with her distinct red locks playing into the name.

"It was Eva's first birthday when we made our first official batch of cheese curds," Miller said. "That was about four and a half years ago."

The idea to start processing their milk for cheese started on Alan and Emily's honeymoon to Alaska in 2016. During their trip they visited one of two Alaskan dairy farms.

Due to Alaska not having any creameries, the farms have their own processing facilities. The Millers' honeymoon trip inspired their on-farm creamery, and Alan got to work learning about cheese with the "Complete Idiot's Guide to Cheesemaking." He started in the kitchen of their home until he felt comfortable expanding that new-found skill.

"We thought of building a facility to start making cheese, but we would have gone broke," Miller said. "The semi-trailer was purchased from a family that had done what we were about to start doing, and (the trailer) continues to serve us well to this day. Before we take a step to a permanent facility, we would like to pay down what it costed us to get up and running as well as transition further into the family farm."

The creamery was a way for the Millers to diversify their farm, adding value to the cattle they had in the barn.

Any milk not used for their creamery is shipped to Plainview Milk Products.

Miller uses a stainless steel tote to transport milk from the bulk tank to the trailer. From there the milk is added to the pasteurizer. They can then start making curds. Miller said the cheese curds were their starting point being the cash turnaround time was quicker than with block cheese.

Little Red Dairy makes nine flavors of cheese curds and does block cheddar cheese for their cheese boxes. They also work with a local meat processor to make summer sausage, pepper sticks and brats that can also be sold to accompany the cheese.

They have participated in fundraising for the local FFA chapters; FFA members sold their cheese boxes. Miller said this was a great way for the creamery to get their name to different potential customers in the area as well as support a great youth organization.

One of the challenges the Millers found once starting to make cheese was getting their name out to customers. They packed up their products every week to attend local farmers markets. From there, their name grew, and today their cheese is included on the menus at a number of local restaurants and on the shelves of several grocery stores.

On average the Millers are processing 1,000 lbs. of cheese each week.

"I have a lot of respect for other people direct marketing their farm products," Miller said. "I think any time we can spend an extra dollar for a local product from an area farmer, the better that is for our communities. There is a lot of work and passion that goes into making, growing and marketing products."

Miller has a full schedule; he often gets up early to start the cheese making process, which usually takes place Tuesday and Friday of each week. Once milking time rolls around, a full-time employee takes his spot in the creamery and he heads to the barn to tend to free stall cleaning, feeding, among other farm tasks.

"I like the cows; they are my favorite part of the farm," Miller said. "With my schedule now, I don't get to do much milking, but I've always enjoyed that part of dairy farming."

There are three farm employees that are assets to the success of the Miller's farm. Though farming changes with the seasons, Miller said he can count on his help to keep the farm moving forward.
Cows on the farm are milked twice a day in a double-8 herringbone parlor. Once they are finished in the parlor, the cows have access to free stalls with mattresses and sawdust and a 24-hour buffet of TMR feed that is pushed up several times a day.

Though they don't milk the largest number of cows in the county, the Millers like their herd size. For them, bigger isn't necessarily better. Miller said their philosophy is to do the best with what they have. They like to focus on cow comfort and high-quality milk.

Miller owns half of the herd of cows currently, and as his dad transitions out, he will purchase the other half of the herd. The family works together to accomplish everything from barn chores and field work to packaging cheese.

"I'm hoping the cheese making can help solidify the farm's future," Miller said. "I want my kids to grow up here and be involved in agriculture if they choose."

They started small, and as the business grows, they will grow with it. For now, the Millers are making the best of their farm's milk by making a product many of their customers have come to love.